FC AFC Dansmirth's Wavecrest Fete SH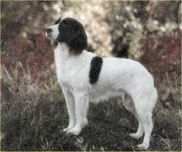 On Saturday, September 17, the Stibbe's laid to rest their beloved girl, Fete. The Field Trial world lost a matron of the sport–not only a top producer of competitive dogs (including the 2nd litter in the breed to produce littermate National Champions), but a talent in her own right, earning two championship titles, winning the Parent Club trial along the way, and receiving Certificates of Merit at two National Field Trial Championships. Most importantly, though, she had an outstanding temperament. Fete never offered to threaten a person or dog of any age (and no matter how aggressive or irritating). She was solid as a rock–the kind of springer for whom you never have to make excuses; the kind of dog whose leash you could turn over to a child of any extreme, whether obnoxious or very frightened of dogs, and trust her to Take Care of him.
Fete came to Jason unexpectedly–she was in her second home, at a trainer's kennel, when Jason saw and bought her as an older pup. He was an amateur, then, and did many grand things while training and running her. She taught him how to make a tough dog look as though she wanted to be perfect most of the time, and she taught him, on many occasions, humility.
In the whelping box, Fete was an excellent mother and produced four litters sired by the following dogs: FC AFC Raintree's Sea Pirate, NFC AFC The Iceman, NFC AFC KB's Sir Coach, and CNFC FC Parker Sir Roberts. From these litters came many beloved hunting companions, a great many field trial placements, three FC titles, two AFC titles, two MH titles, two winners of Certificates of Merit at the National Amateur, and a tremendous accomplishment: 2000 National High Point Puppy / 2003 National Open Field Trial Champion FC Lighthouse Reverence and his brother, the 2005 National Amateur Field Trial Champion, AFC Upcountry Lighthouse Amos.
After Fete's retirement, Tom and Mary Stibbe welcomed her into their home and hearts. They had always loved this quiet, noble dog, and were the very proud parents of her daughter, FC Sophie Rose of Lighthouse MH. Tom and Mary gave Fete a wonderful home, including lunch time walks, all the couch time she wanted, and the occasional sip of wine (from Mary's cup). They enjoyed her thoroughly, and there was no doubt that she enjoyed them just as much. When she saw Jason at trials or when visiting Lighthouse to train, Fete would give him a polite," Hello. I'm fine, and you?" wag, and then go back to her mom, Mary. She and Mary had a very special relationship, and none of us who watched will forget the partnership they shared when Mary put Fete's SH title on her.
We are grateful to have known and loved this special dog. We smile when we look at Rev, Sophie, Chip, Ruger, Bailey, Luke, Amos, and Hurry–her kids whom we see often. We hope to see traces of her through the generations: her temperament, her bird finding, and her calm, quiet demeanor. She was not perfect, but she was a Very Good Dog. She will be sorely missed by all who knew her. Rest well, dear girl. We know you're in that very special place where Well Loved dogs go when their bodies can no longer give them the quality of life they deserve. May you flush whole flocks of pheasants every day and, if you want to break, go for it!